Hello! Hope your Memorial Day weekend was fantastic. Mine sure was. This weekend kicked off the cleaning out process in preparation for moving. A few days ago I made a list of all the areas that needed to be sorted and reorganized and it basically equaled every room, closet, and cabinet in our house. I plan to tackle them one at a time on the weekends leading up to moving in hopes that I won't get overwhelmed, we'll see how that goes.
I did our office closet on Friday and boy was it a doozie. I am neither embarrassed nor ashamed to show you this: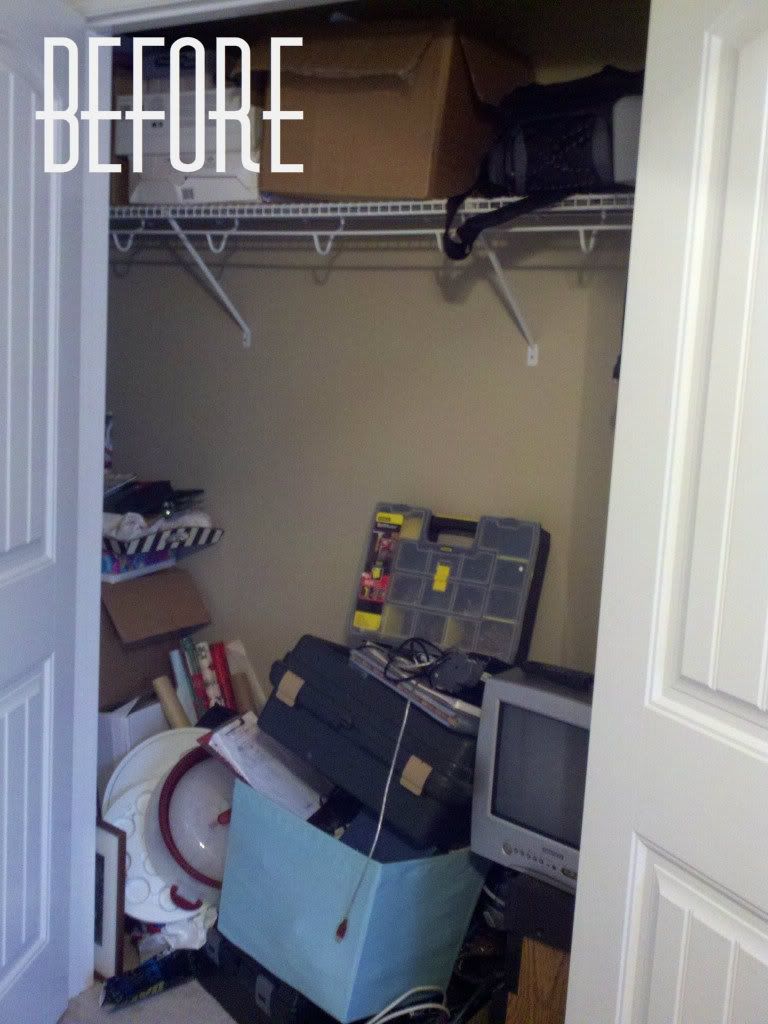 After about 2 hours of sorting and sifting, this was the end result:
Ahh... so much better. I even used color coded labels to divide things into Take, Store, and Donate groups. I will spare you the thrilling details of the color code and move on.
Andrew and I are kind of in the market for some bedroom furniture. I have been using a chest of drawers that my grandparents bought when they got married. The drawers don't open too well anymore so I tend to just crack them slightly, reach in with two fingers and yank out anything I need. Basically if it's not on the top, I don't wear it. I've been doing this for six years now and as special as it is that this chest belonged to my grandparents, I'm kinda over it (love you grandma!). Andrew's dresser is on loan from his sister Ashley and will eventually need to be returned.
Sidebar: Ashley, mother of a two and four year old, is currently expecting twins arriving in August. She is busy making room for two more babies in her home. Needless to say, she is not demanding the dresser back anytime soon and we are ever so grateful!
We aren't in a position right now to buy shiny new bedroom furniture but we are in the position to thrift and DIY! We found this interesting mid-century dresser at Collins Thrifts and More in Valdosta for $65. It has two more drawers than my current dresser and they all open and close properly! Its appearance is admittedly questionable. It kind of looks like it belongs in a dungeon. But trust me, I have a vision for it and I think it will look really cool when it's all said and done. We will likely purchase it tomorrow and I will be sure to post its evolution.
Speaking of evolution, I have a table in my dining room that is constantly evolving. It usually changes with the seasons but since Easter it has been really boring, housing one measly lamp and a couple of candle sticks. Over the weekend I tried a number of things and finally settled on something that I think will look nice through the summer. Let this be an encouragement that sometimes (or all times) your house is a work in progress. Don't be afraid to change it until you love it. One of my favorite design bloggers, the Nester, lives by the mantra, it doesn't have to be perfect to be beautiful. Thank God! My table evolved at least 5 times just over the weekend and it's probably not finished. Here are some forms it took and where it's at now (far right):
The more I blog the more I realize my camera (aka cell phone) stinks. I am looking for tips for taking better pictures with a cell phone. Maybe one day I'll get a big girl camera but until then... please accept my graininess. Happy day!